Day 1
Day started the same way most days do when I'm travelling: with a coffee using the tea and coffee making facilities. But this is America, the land of no kettles, so my room was only equipped with a little drip system. It did managed to produce water hot enough for herbal teas. Also, American coffee has not improved in 6 years since I've last visited (sorry, US readers).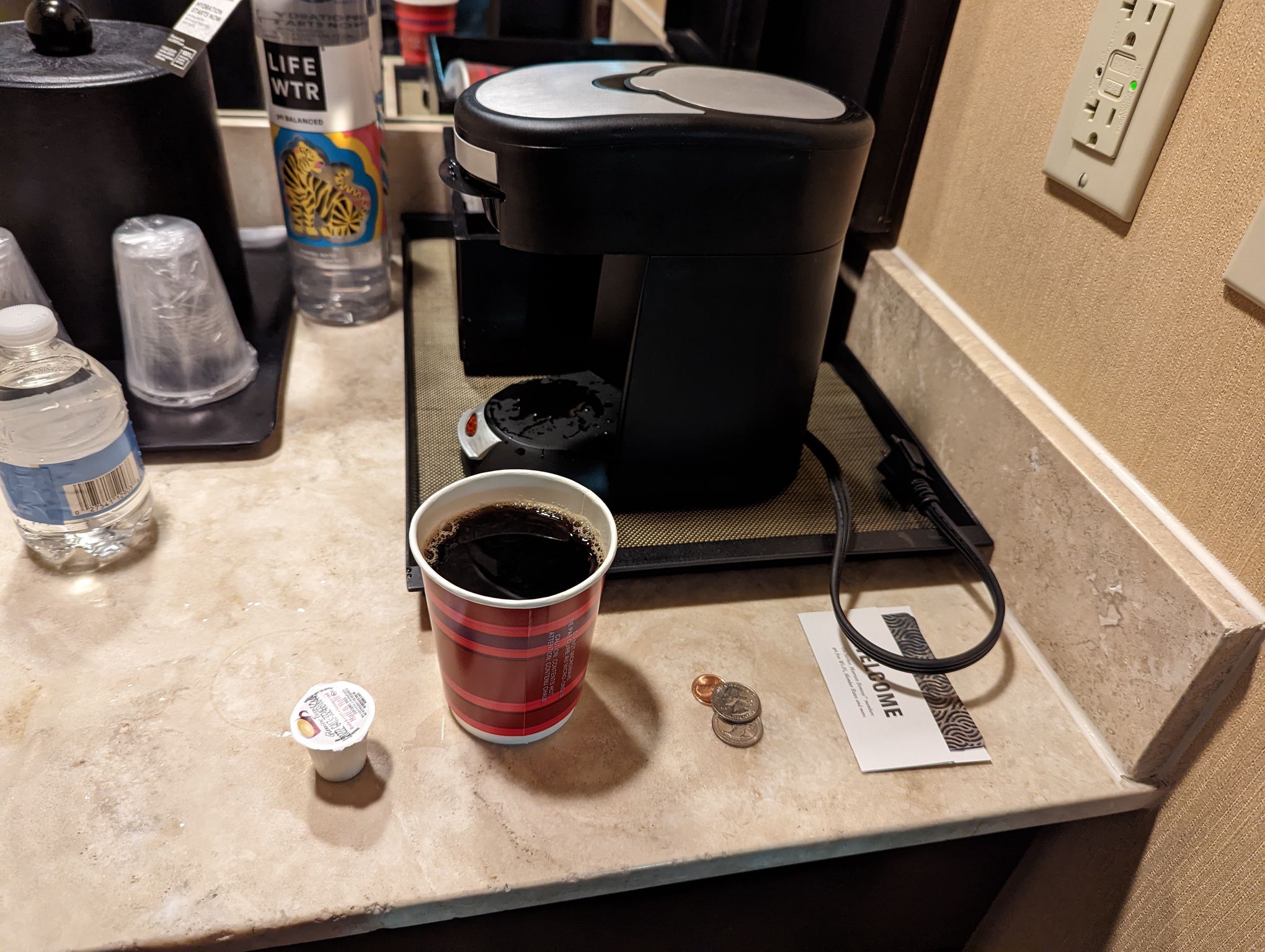 Enjoyed breakfast with my colleague at the hotel, then it was off to the Venetian to check-in. Although the two hotels seemed close to each other when I was planning the walk on Google maps, I was not expecting the walk to be as long. Our manager mention that it was about a 30 minute walk, and he was pretty accurate. Lesson one of re:Invent: Las Vegas is bigger than you think.
Walk was pleasant enough. It was sunny but relatively cool, around 17°C or so. The ads for cloud solutions seemed to have made their way from the airport to the digital billboards around Las Vegas Blvd. I wonder what the locals think of this.
Also notice the bird life. There seem to be a black sort of bird that make the noise you can hear on this CGP Grey video. I will thinking about this video a lot while I was over there, probably because I was not really expecting to be in the same place. Most of the time I've been walking around I been either humming or playing in my head the soundtrack while CGP Grey was walking the strip.
Speaking of the strip, many of the hotels were playing music on the footpath. I'm guessing that it's to keep people from sleeping on the footpath? There are places back home that do the same thing. Even so, it was slightly distracting, especially while I was trying to talk with my colleague.
Badge pickup at the Venetian. Already it looked to be a pretty huge conference. Had to walk through metal detectors, which I hate to say feels like quite a US centric thing to see. Although it's understandable given the number of people in attendance.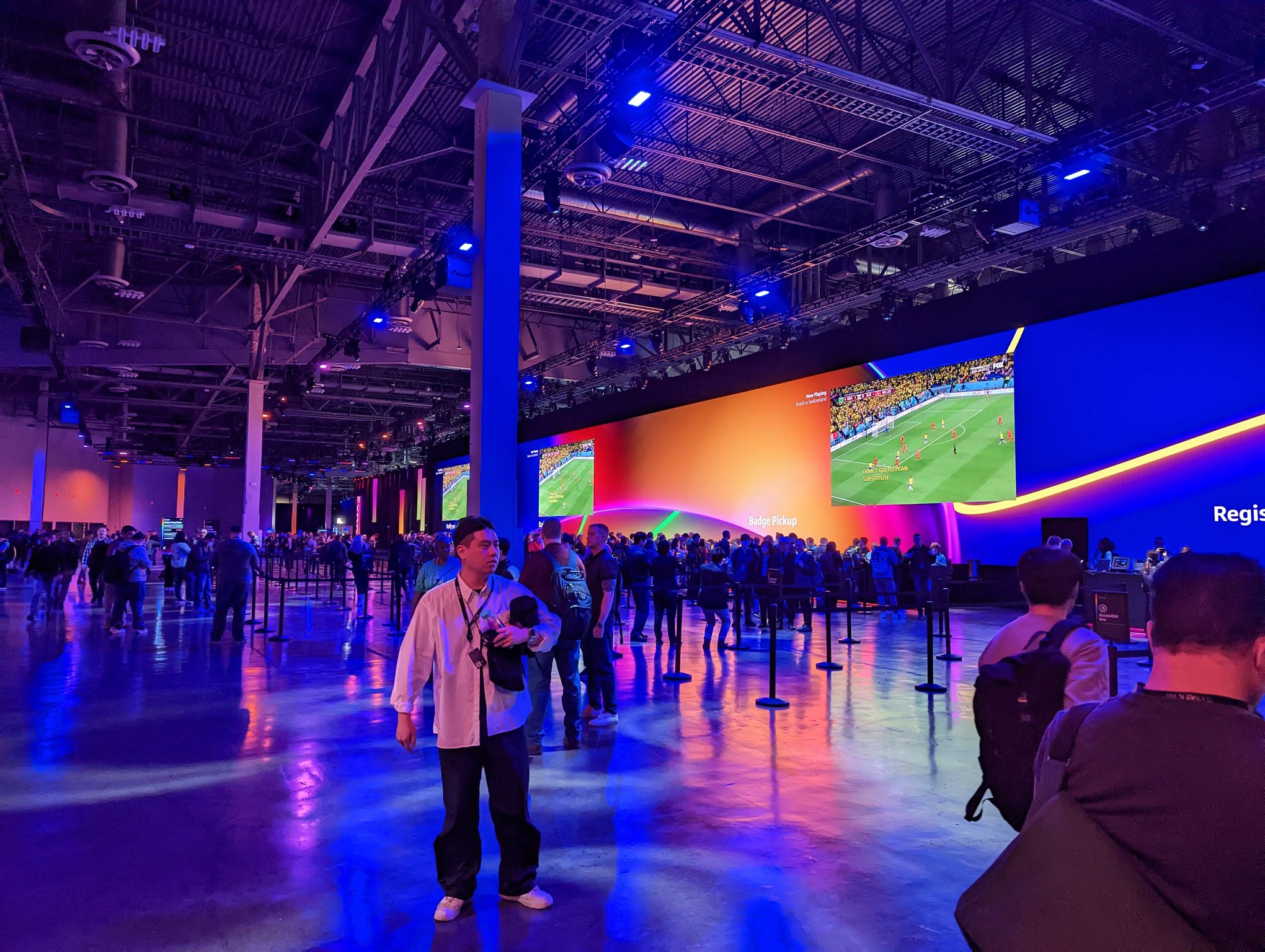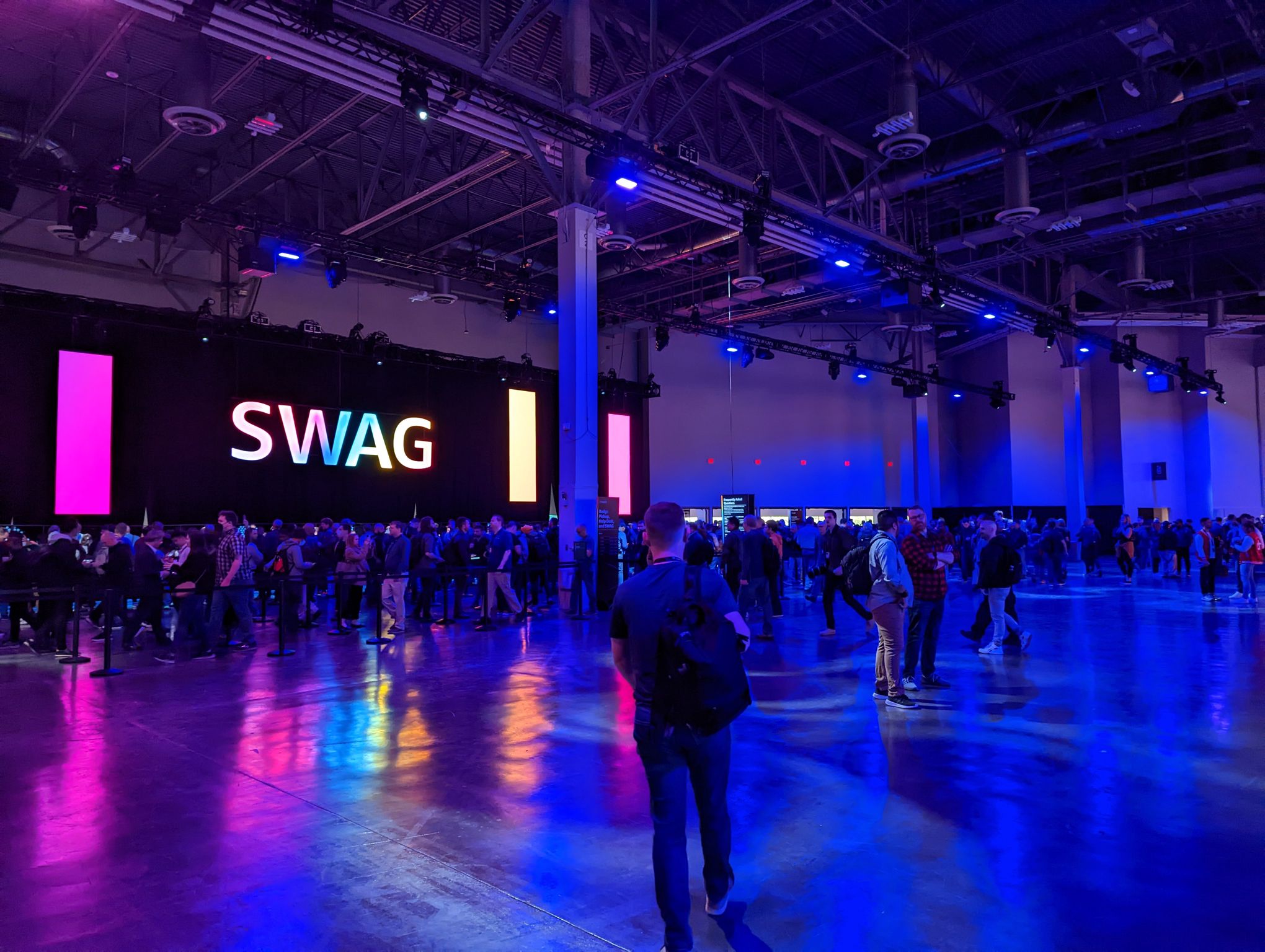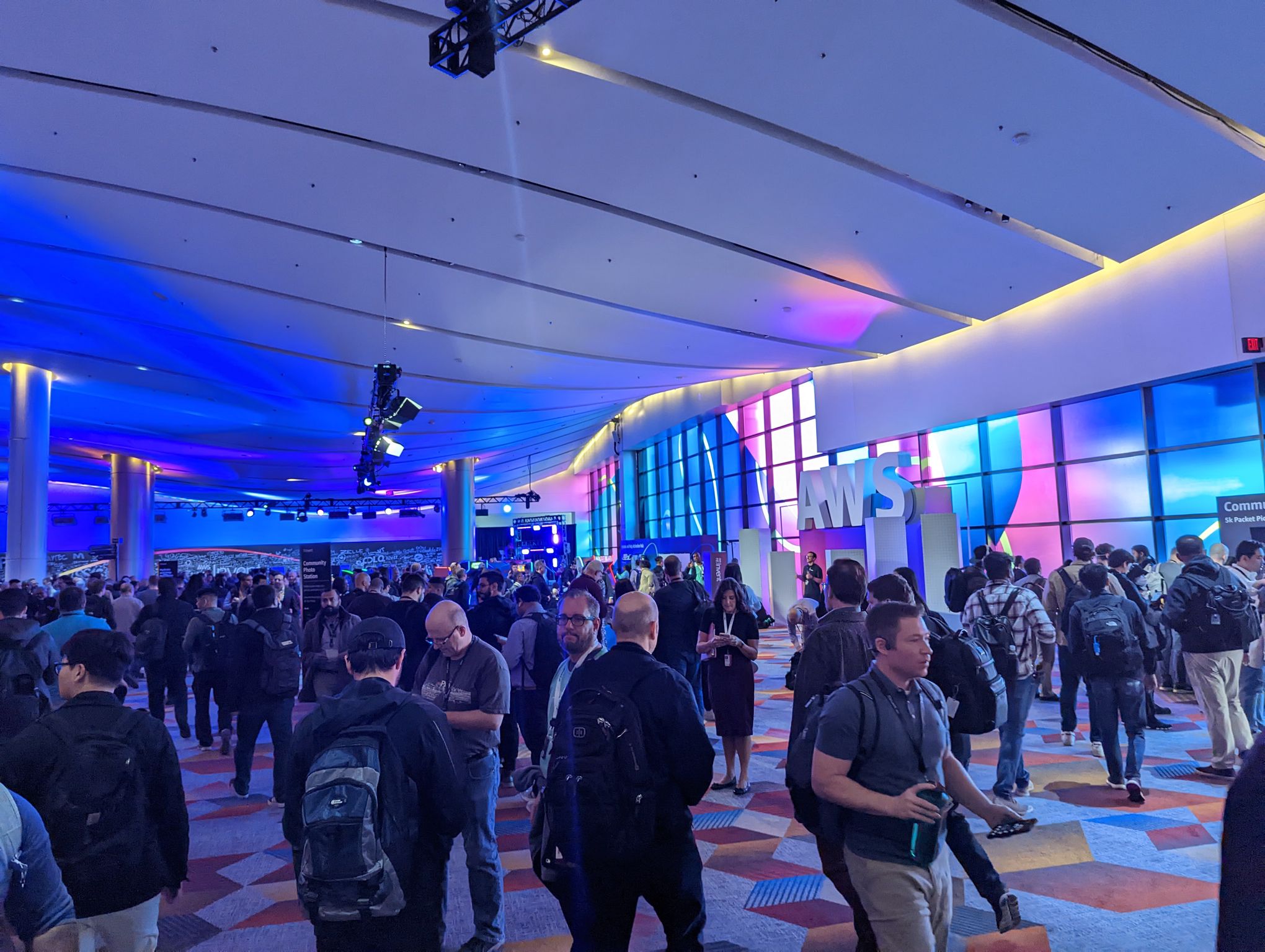 We didn't have booked seats for the first session so we figured it might be worth our while queuing up to see if we could get walk-up seats. The line for the walk-up seats was really long so we gave up and went to the "Overflow" seating area. This is effectively a bunch of chairs in front of a large screen with silent disco headphones. It was playing a video feed of the session, as if you would be watching the YouTube video in an open aired movie theatre. Not really conducive to the conference experience.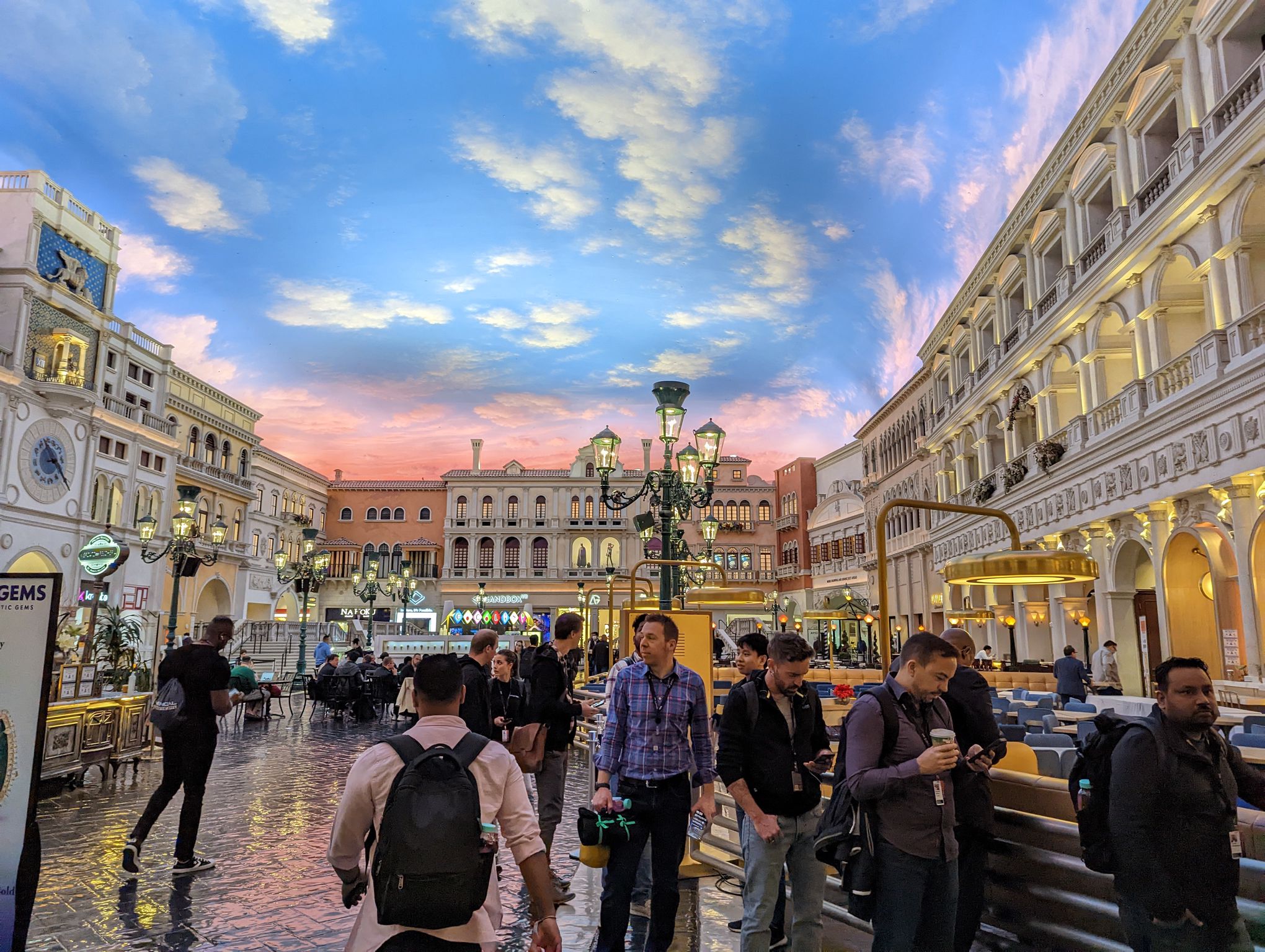 We eventually tried our luck with walk-up seating in many of the later sessions, and on the whole we got pretty lucky. This is lesson two of re:Invent: always try for walk-up seating. If you get there early enough, you'll be more likely to get in than not.
The Sessions were pretty standard so there's not much to say about them here. They were spread across multiple "campuses", which are effectively conference centres of large hotels on the strip. While I was trying to get my head around the location of things, I was expecting to be able to walk between them. But see again the fact that things are just so far apart. The app was estimating a 60-90 minute walk between each one, and it was probably right (I didn't test this out).
They did had a pretty efficient shuttle bus service going though, with busses departing frequently enough, so there was no problem getting around.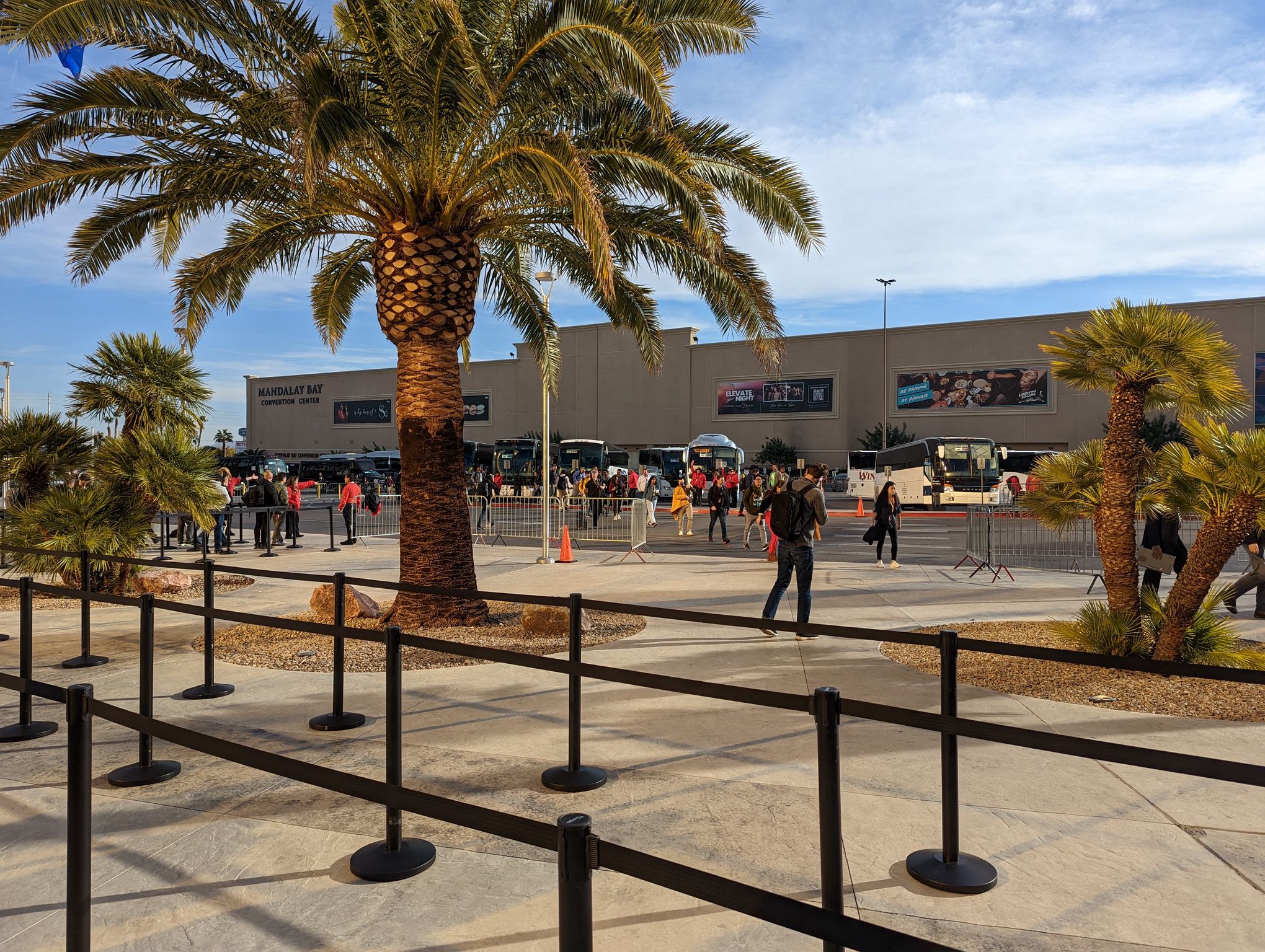 The first day was particularly long. Finished break-out sessions at around 5:30, which was well after dark. The last thing for the day was a bit of a reception for "high value" RDS customers. We were both invited to this, but I ended up being the only one to attended, as my colleague decided to go to a keynote that was happening during the same time. I had an hour to go before it started so I took this opportunity to walk there. It was quite dark and cold, but the streets were lively enough, which was no surprise.
The reception was lots of fun. We were in a small ball room in the Encore with about 50 other customers and RDS developers. Lots of roaming platters, breads with cold meats and cheese along the sides, and an open bar. One of the barman was not hesitant to yell out "Ice Cold!" every time I asked for a beer. Is that a thing that happens often? It was odd but I was charmed by it.
Ah, and I must say that even though American coffee hasn't improved a lot, American beer certainly has! I wish I took note of the brand but the beer I went for was an IPA from an indie micro-brewery located in California somewhere. It was good, as good as anything I could get back at home. Quite hoppy, which is what you'd expect from an IPA, but it went down really well.
This is where I got to practiced my hobnobbing skills, an area of conference going that I'm pretty crummy with. I gave it my best by speaking to a bunch of other RDS customers that were in attendance. Most them were in industries that differed form mine, like banking and insurance, so there was no real chance to make connections here (and honestly, I wouldn't how to begin if I wanted to). But I also spoke to a few people from some pretty well known software companies. They all used RDS to a pretty significant degree, and one of them — a company you would have definitely heard of if you're building any sort of online service — uses MongoDB quite a lot, and are actually really happy with it. I didn't think much of MongoDB going into this and after talking to them, I think I need adjust my expectation of that service.
So I call that a win, although anything that involved not just sitting in the corner in the room staring at my phone is a win in my book.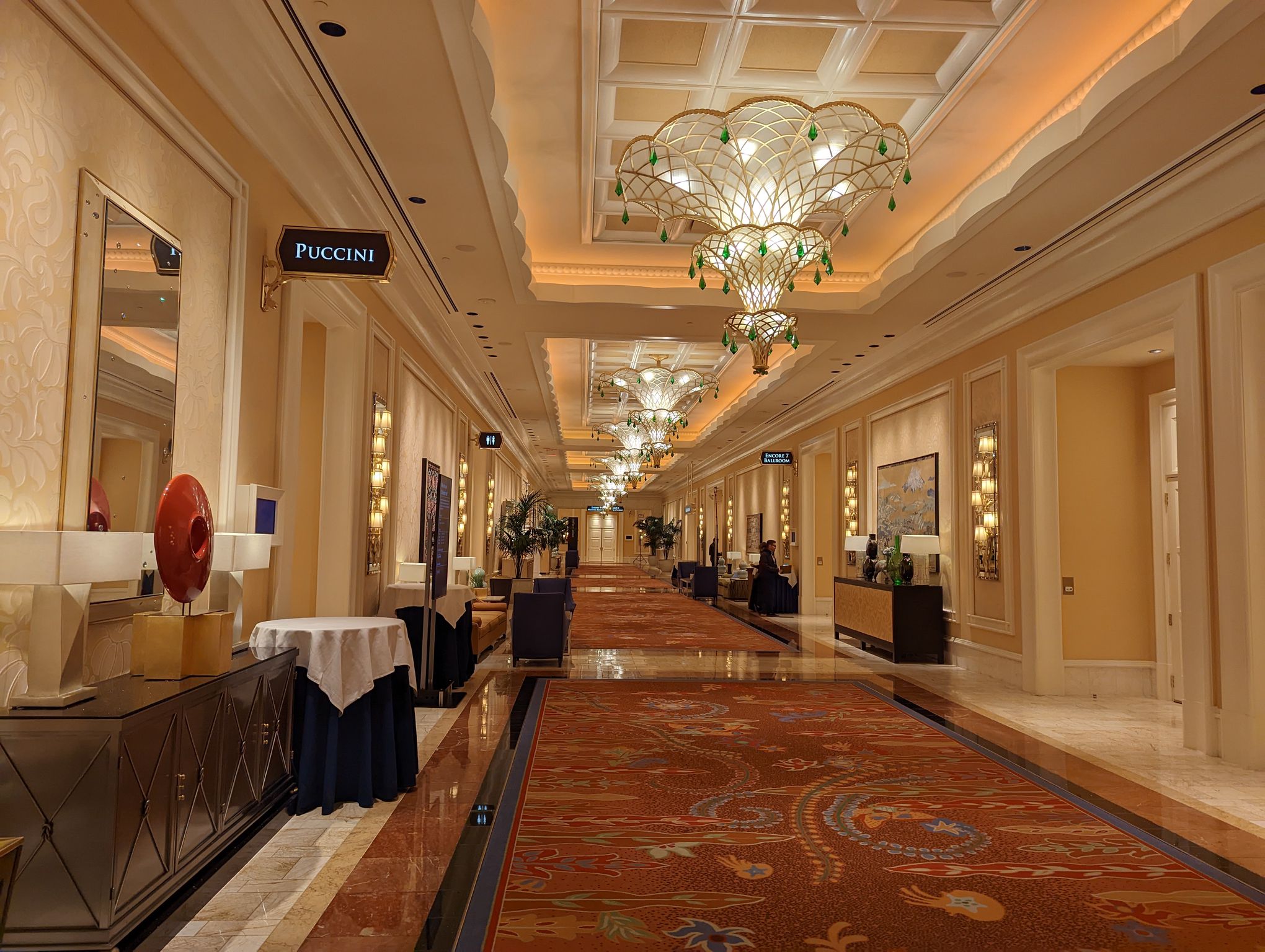 Got back to the hotel around 9:00 or so.