Day 5 Afternoon
After the Hover Dam we went back to Geylang Claypot Rice for lunch. I had the beef this time. Still quite good.
We then decided to go for a bit of a walk to a cafe recommended by our manager. It was located in the "real" city of Las Vegas and a good 40 minute walk. Apparently our manage did this walk every morning, which I find a little hard to believe.
We walked along the extension of the boulevard until we were a couple of kilometres away, then we deviated through some of the back streets.
We eventually reached the cafe: Vesta Coffee Roasters. It was actually quite nice: worth the walk. Although reflecting on it now, it's wild that we need to walk this far to get to an indie cafe. In Melbourne, you can't walk 10 metres without running into one.
One thing about cappuccinos in the US: they don't dust it with chocolate on the top. I know that's how you make a "proper" cappuccino, but in order to do that, you have to get the milk and coffee right. And it just seems like this wasn't quite achieved, even at this cafe. Something about the milk, I think. Well, keep at it.
After that, it was off to the airport. We swung by the hotel to pick up our bags and to actually collect a package for my manager. Oh, this package business was an event in itself. My boss wanted to buy something that was only available in the US, from a company that doesn't ship to Australia. So he put the delivery address under my name and arranged it to be delivered to the hotel. I was to pick it up and bring it home.
But the delivery window kept slipping to the point where the estimated date was the day after we left to go back home. There was a chance that we would miss it. So from about Wednesday onwards I asked at reception whether the package arrived, with the hope that it will come early and I can bring it back. I even went to one of the cosmetics shops (the item was something like foundation) to see if they had it. Apparently this thing my boss wanted was not available in any of the shop's chain in the Las Vegas area. It was really hard to come by apparently.
But fortunately I got a message from him saying that the package was to be delivered today. And sure enough, after lunch, the tracking website indicated that it was delivered. So I was in a position to bring it home.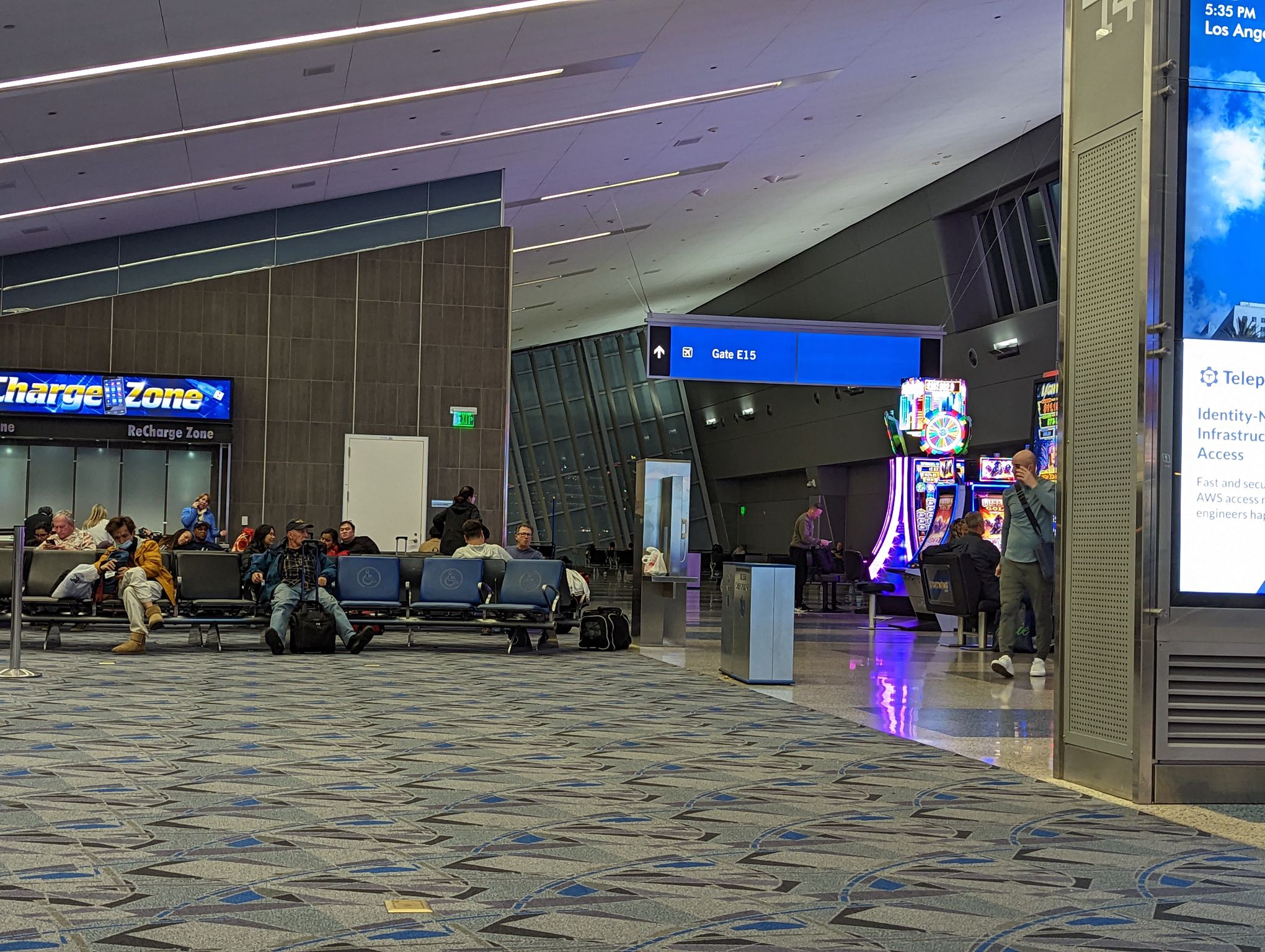 Airport was nothing to write home about. Took for fricken ever to get through security. Also, the airport has gambling machines in the middle of the concourse between the gates, which was strange, but frankly on par for the course. One good thing about the flight home was that we didn't need to go through security again when we landed in LAX and made the transfer to the international terminal. This was a welcome change and I think something under-appreciated by those I mentioned this to.
Flight home was uneventful except that my cold was in full swing and I was in danger of running out of tissues. I feel for those travelling with me, with my constant coughing and blowing of my nose. I didn't sleep on the plane.
Conclusion
So, all it all, a successful trip. This will probably be the only time I travel to AWS re:Invent. The conference just seems way too large for me. And I'll be frank with you: I wouldn't choose Las Vegas as a place to stay for holiday. I don't gamble, and the idea of just saying inside a large hotel does not appeal to me. But I'm glad I got the opportunity to go, and it's still quite fun to travel to and see more of the US, even though it's a single week at a time.